Stone Age man first came to Little Bowden over 5000 years ago, he lost a flint arrowhead and a stone axe near to the River Welland, there is no evidence that Stone Age woman accompanied him and no signs of settlements have been found.
Middle bronze age settlements have been found to the north of the River Welland, but they did not venture south as they had probably heard reports that council rates were higher in Northamptonshire.
The Romans appear to have avoided the area, except for a small settlement on Clack hill . (Bricky Tip on map).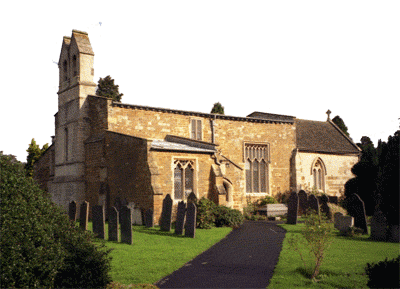 In Anglo Saxon times the River was called the Weolud.
Little Bowden had a bad time around the time of William the Conqueror, the Northamptonshire geld roll of 1073 points to devastation by invading Scandinavian armies in 1065and/or the devastation caused by King Williams punitive march from Warwick to Nottingham in 1068.
The Doomsday book suggests that the district of Bowden being half cultivated with a total population of around 300 in the the three villages of Great Bowden, Arden and Little Bowden. The decline of Little Bowden is further indicated in 1382 by St. Mary's Church being described as the "Church of our Lady in Little Bowden in the fields"

During the Civil war, just after the battle of Naseby, the Little Bowden Rector Richard Mowse was ejected, however he was returned to office after the restoration of the King.
The enclosure acts of 1780 show 3 fields in Little Bowden

The East field 400 acres in arc from the Kettering road to the River Welland, this is known as the field towards Dingley

The South field 400 acres from the Kettering road to the Northampton rd, (the Middle field or "the field towards Braybrooke")

The West field from the Northampton road to the River Welland, the "field towards Farndon"
A large part of Little Bowden was transferred to Leicestershire in 1891, the rest in 1895 (from Northamptonshire). In 1927 Little Bowden and Great Bowden were absorbed into the Market Harborough civil parish